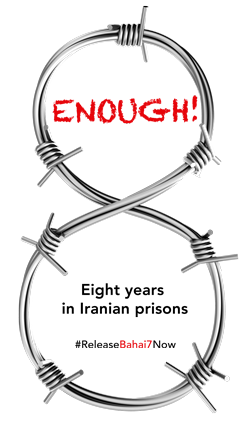 Earlier this month a
campaign
(Enough! Release the Baha'i Seven) was launched by the Baha'i community to bring attention to the continued unjust detention of Iranian Baha'i leaders. This met wide-spread support. More details
here
.
In Iran some clerics also called for an end to the persecution of the Baha'is, the largest minority religion in the country.
Following this, much controversy followed from a
simple meeting
between friends, one of the Baha'is concerned who was allowed a brief home visit and the other a former cellmate, the daughter of the Prime Minister of Iran.
Many significant articles appeared in major news sites. From the
BBC
:
"A political storm has erupted in Iran after the daughter of former President Akbar Hashemi Rafsanjani visited a leader of the persecuted Bahai religious minority while she was on leave from prison."
Let us pray that this senseless persecution will soon come to an end. Iran needs the contributions of all its citizens.